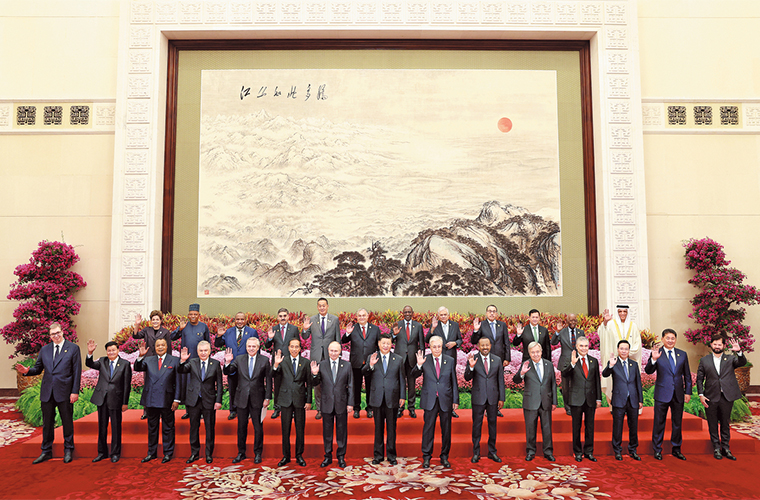 President Xi Jinping (center) and other leaders attending the third Belt and Road Forum for International Cooperation pose for a group photo before the forum's opening ceremony at the Great Hall of the People in Beijing on Wednesday. [FENG YONGBIN/CHINA DAILY]

Connectivity, mutual benefit, common development, cooperation and win-win outcomes in focus as leaders from across the globe gather in Beijing, while the event also offers an opportunity for exchanges in a wide range of fields.

The Third Belt and Road Forum for International Cooperation in Beijing resulted in a total of 458 practical outcomes, significantly surpassing the achievements of the second forum, Foreign Minister Wang Yi said on Wednesday,October 18, 2023. Several cooperation initiatives and agreements were agreed, including improvements in connectivity, green development, the digital economy, and on high-level principles for building integrity within the Belt and Road Initiative, said Wang, a member of the Communist Party of China Central Committee's Political Bureau.

These tangible outcomes represent the participating parties' support and confidence, he said, adding that Belt and Road cooperation is not just about "talking the talk, but walking the walk". "The defining feature of this forum is that it is action-oriented, efficient and pragmatic." he said.

The two-day forum was attended by representatives from 151 countries and 41 international organizations, showcasing the appeal and global influence of BRI cooperation, said Wang. The forum sent a clear message to the world: unity, cooperation, openness, and mutual benefit are necessary, while division, confrontation, isolation, and zero-sum games should be rejected, he said.

In response to a question about how the BRI interacts with other global connectivity initiatives and cooperation mechanisms, Wang stated that China is open to all parties joining the BRI at any time. He also expressed hope that other countries' connectivity initiatives will avoid creating exclusive blocs.
China is willing to align with all connectivity initiatives to discuss and carry out cooperation that is beneficial to developing countries, he said. Wang suggested that the BRI could work in tandem with the European Union's proposed Global Gateway initiative to expedite infrastructure construction in developing countries. Wang responded to claims that the United States-proposed Partnership for Global Infrastructure and Investment is aimed at countering the BRI. He said this is another example of politicizing economic issues — a short-sighted and negative approach that would not gain international recognition.

Wang finally emphasized that "we should not politicize every issue, and we should not suffer from 'politicization paranoia'."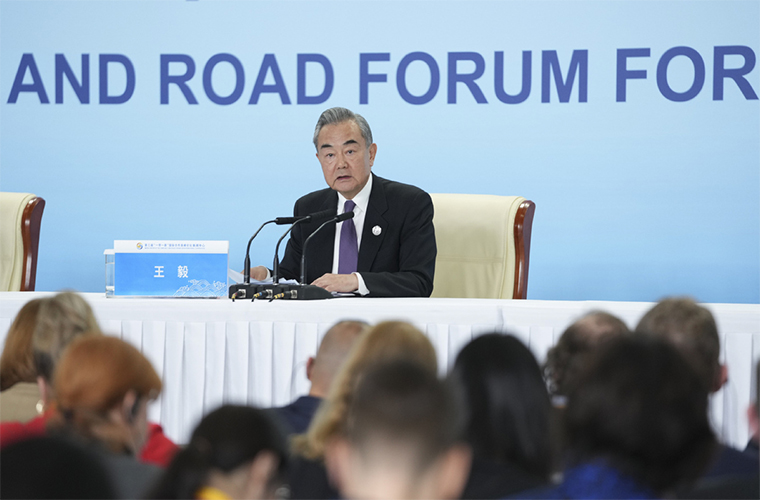 Foreign Minister Wang Yi, also a member of the Political Bureau of the Communist Party of China Central Committee, attends a press conference of the third Belt and Road Forum for International Cooperation in Beijing, capital of China, Oct 18, 2023. [Photo/Xinhua]
Author: Zhou Jin
Edited by Wang Miao
with reference to <http://www.chinadaily.com.cn/a/202310/19/WS65300baba31090682a5e9598.html>
and <http://www.chinadaily.com.cn/a/202310/19/WS6530656ca31090682a5e95d4.html>