I. Introduction to the Coordinated Development of the Beijing-Tianjin-Hebei Region

The Bohai Bay area including Beijing, Tianjin and Hebei is considered China's third economic engine, alongside the Pearl and Yangtze river deltas. Development of the area has been discussed by the central government since the 1980s. The National and Development Reform Commission (NDRC) first proposed the Beijing-Tianjin-Hebei (BTH) project over 10 years ago, and it later appeared in the 12th Five Year Plan (2011-2015). In recent years, however, integration plans have been accelerating (Fig. 1).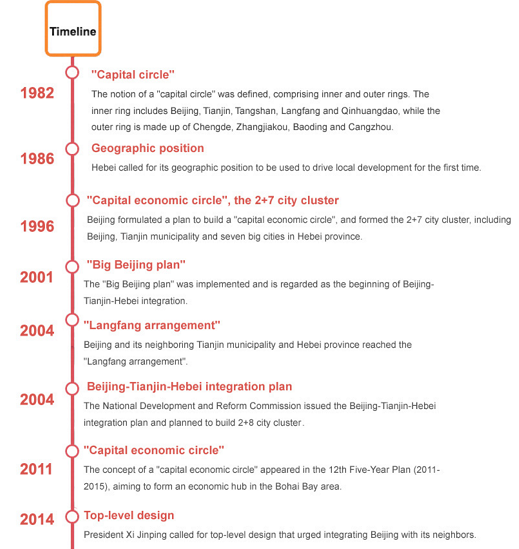 Fig. 1 Timeline of the Development of BTH Region
According to the NDRC, the BTH region consists of Beijing and Tianjin Municipalities, eight big cities in Hebei province - including Shijiazhuang, Baoding and Qinhuangdao - four urban nodes, including Tongzhou New Town, Shunyi New Town, Binhai New Area and Caofeidian, and an economic development area. This is also referred to as a "2+8+4 city cluster."(Fig. 2) The Beijing-Tianjin-Hehei region, with a population of about100 million, covers 216,000 square kilometers (in 2023).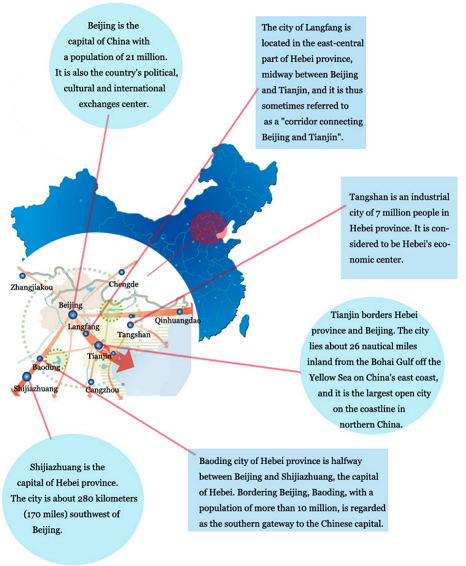 Fig. 2 Major Cities Involved in the BTH Region
Under the integrated framework, which was announced by the General Administration of Customs in 2014 and is more colloquially known as "Jing-Jin-Ji", six major areas of focus have been outlined:
— Relocation: Transferring nonessential functions out of Beijing
— Industrial upgrading: Industrial coordination
— Transport integration: Twenty-four intercity railway lines to connect the entire BTH region
— Environmental protection: Smog monitoring systems to be increased, use of forecasting technology, promotion of effective smog control
— Public service: Regional public service integration and social development
— People: New opportunities for talent communication and exchange
The BTH Region plan aims to promote regional coordinated development and build a new pole of economic growth so as to enable the three regions to draw on each other's strengths, promote the development of the Bohai-Rim Economic Zone, and drive the development of the hinterland in North China. It looks for different areas in the region to focus on their own comparative advantages so that duplication is avoided, areas complement each other, and synergies are maximized. Better guidelines to promote the economic integration of the areas would help them complement each other with respective advantages, as well as propelling economic transformation and upgrading the Bohai Sea rim.

Areas within the BTH region already have their own strengths in specific areas. Beijing is known as a political, educational, cultural, and R&D center; Tianjin is known as northern China's logistics center, with one of the busiest ports in the world <https://www.china-briefing.com/news/2017/09/28/chinas-top-ports-an-index-for-importers-and-exporters.html>; and Hebei province is known for its heavy industries, including steel production.

In April 2017, the central government announced the plan to set up Xiong'an New Area in Hebei Province, another new area with national significance after Shenzhen Special Economic Zone and Shanghai Pudong New Area.

The establishment of this new area is significant for the transfer of Beijing's non-capital functions, the exploration of new modes for the optimization and development of population-intensive economic zones, the adjustment and improvement of Beijing-Tianjin-Hebei urban layout and spatial structure, and the nurturing of new engines for innovation-driven development.

2. New Growth Driver through Coordinated Development of BTH Region
The coordinated development in Beijing and neighboring regions is now in full swing and has grown into a new driving force for China's development, nine years after China launched a key strategy to build the Beijing-Tianjin-Hebei regional city cluster.
The Beijing-Tianjin-Hebei region's gross domestic product (GDP) reached CNY 10 trillion (about USD 1.44 trillion) in 2022, 1.8 times the 2013 level at current prices, according to a report released by the Beijing Municipal Bureau of Statistics on Feb. 20.

The thriving service sector is behind the region's growing economy. Official data shows that the proportion of the tertiary industry in the region increased from 58.1% in 2013 to 65.6% in 2022, up 7.5 percentage points, with the tertiary sector's ratio in Beijing, Tianjin and Hebei reaching 83.8%, 61.3% and 49.4%, respectively, a significant increase since 2013.

The improved industrial structure has also generated new jobs and optimized employment structure. Over the past nine years, the region has created a total of 14.42 million urban jobs. In 2021, about 84.4% of employees of enterprises in Beijing worked in the tertiary sector, 6.2 percentage points higher than in 2013. Employees of the tertiary sector in Tianjin and Hebei in 2021 accounted for 60.5% and 46.6% of the total, respectively, up 10.9 and 15.1 percentage points compared to 2013.

Moreover, the region has significantly increased its investment in research and development (R&D). According to data from the National Bureau of Statistics (NBS), in 2021, the BTH region invested a total of 394.91 billion yuan in R&D, 2.1 times that of 2013, accounting for 14.1 percent of the national total. Its R&D spending intensity reached 4.1% (in 2021), a 0.7 percentage point higher than in 2013 and 1 percentage point higher than the national average.

The BTH region has also witnessed rapid growth in new business forms. The added value of Beijing's digital economy surged from 871.94 billion yuan in 2015 to 1.73 trillion yuan in 2022, accounting for more than 40% of the city's total GDP. Tianjin's high-tech manufacturing accounted for 14.2% of the added value of industrial enterprises above designated size, an increase of 1.9 percentage points compared with 2014. The added value of Hebei's high-tech industries accounted for 20.6% of that of industries above designated size, 8.8 percentage points higher than in 2013.

Today, the region is also home to a total of 1,124 specialized and sophisticated enterprises that produce new and unique products, as well as several competitive unicorn companies.
The same story is unfolding in the Xiong'an New Area, Hebei Province. Located about 100 km southwest of Beijing, the area has been designed as a major recipient of functions previously located in Beijing but which are not essential to its role as China's capital.

Hebei Province has welcomed some 44,000 enterprises transferred from Beijing and Tianjin, according to the provincial development and reform commission. This year, Hebei plans to absorb 30 second- and third-tier subsidiaries of central enterprises which are scheduled to settle in Xiong'an.

Coordinated development has not only boosted economic growth, but also improved people's lives in the region. The coordinated development of the Beijing-Tianjin-Hebei region brought more benefits to local residents in 2022, including convenient inter-city railway services, directly settled medical expenses, and narrowed income gaps. In 2022, the per capita disposable income of Beijing, Tianjin and Hebei amounted to 77,415, 48,976, and 30,867 yuan, representing a nominal increase of 7.4%, 7.1% and 8.2%, respectively, compared with 2013.

Beijing Children's Hospital in 2015 started assisting the children's hospital in Baoding City, Hebei Province, providing professional medical workers and technical support.

In the past eight years, more than 8,000 medical experts from Beijing have served at Baoding Children's Hospital. They performed operations there and passed on their experience, and eventually cultivated a large number of local medical professionals and high-level medical departments in Baoding.

According to Tian Jian, director of Baoding Children's Hospital, the hospital only saw about 250,000 patients a year back in 2015, but now it could see over 600,000 patients a year. "Our hospital is now capable of carrying out major operations. Local patients can enjoy Beijing's high-quality medical resources and medical services on their doorsteps."

Apart from this rational distribution of medical resources, 22 university development alliances have also been established in the region, aiming to balance educational resources and provide equitable opportunities for students.
Transportation development has been a basis for the coordinated development of the Beijing-Tianjin-Hebei region. A "one-hour traffic circle" now exists between Beijing, Tianjin, and Hebei cities, greatly facilitating residents' work and lives in the three areas.
The region has also enjoyed better air qualityand a more sustainable energy mix.In 2021, the average density of PM2.5 -- fine particulate matter that causes smog -- fell 15.6 percent compared to a year earlier. Renewable energy accounted for 8.8 percent of the region's total energy consumption, up 1.9 percentage points from 2020, according to the NBS.
A more rational industrial layout, the more balanced resource distribution and innovation-driven development have not only helped the crowded Chinese capital achieve healthy growth, but also brought benefits to Tianjin and Hebei.

3. China Unveils Plan for Development of BTH Region
China has unveiled a plan for the coordinated development of the Beijing-Tianjin-Hebei region, the Ministry of Industry and Information Technology (MIIT) said this year. The plan, jointly issued by the MIIT, the National Development and Reform Commission, the Ministry of Science and Technology, and the local governments of Beijing, Tianjin and Hebei, said that the region's level of coordinated industrial development will have improved significantly by 2025.
In recent years, the coordinated industrial development of the region has achieved landmark results, and the region's industrial structure has been continuously optimized, according to the MIIT.

As of the end of 2022, the BTH region has cultivated over 1,100 "little giant" firms, the novel elites of small- and medium-sized enterprises that specialize in a niche market, accounting for 12 percent of the country's total.
Solid progress should be made in developing high-end, smart and green industries in the region, fostering quality enterprises, and building the region into a growth pole for the innovative development of advanced manufacturing and a demonstration zone for coordinated industrial development, the MIIT said.

The ministry said that measures will be strengthened to improve the region's business environment, strengthen the coordination of various factors, optimize the region's coordination mechanism, and ensure monitoring and evaluation work.

Source:
<www.chinadaily.com.cn/china/2014-04/04/content_17407089.htm>
<http://www.chinadaily.com.cn/china/2014-04/04/content_17407089.htm>
<www.chinadaily.com.cn/china/2014-04/11/content_17427219.htm>
<http://www.chinadaily.com.cn/china/2014-04/11/content_17427219.htm>
<https://english.www.gov.cn/news/video/2017/10/27/content_281475922877862.htm>

<https://english.beijing.gov.cn/latest/news/202305/t20230515_3102992.html>
<https://english.beijing.gov.cn/latest/news/202305/t20230525_3112903.html>

<www.china.org.cn/business/2023-02/21/content_85118889.htm>
<http://www.china.org.cn/business/2023-02/21/content_85118889.htm>
Edited by Bao Lianying