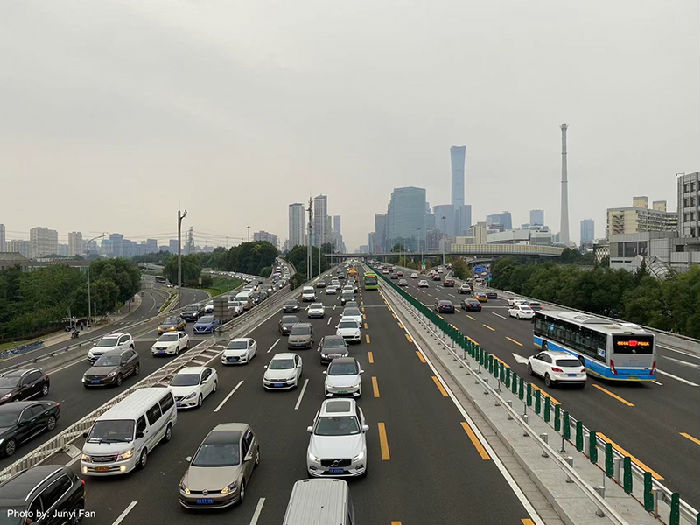 The Office of the Safety Committee of the State Council issued the "14th Five-Year Plan for National Road Traffic Safety" (hereby referred as the Plan)。 The Plan proposes to take Xi Jinping's thought of socialism with Chinese characteristics in the new era as guidance, conscientiously implement the spirit of General Secretary Xi Jinping's important instructions on production safety, adhere to the people first and life first principles, focus closely on reducing accidents and protecting lives, focus on improving institutional mechanisms, improve the accountability system, strengthen the rule of law, strengthen basic security, effectively improve modern traffic governance and overall road safety level, work to fundamentally eliminate road traffic safety hazards, solve the deep-rooted bottlenecks and outstanding problems that restrict road traffic safety, make every effort to prevent and resolve major road traffic safety risks, reduce the total number of road traffic accident fatalities, prevent and control large road traffic accidents, curb serious road traffic accidents, and effectively protect the lives and property of the people.
During the "13th Five-Year Plan" period, China's economy and society operated healthily and steadily, and road traffic continued to develop rapidly. By the end of the 2020, there are 370 million motor vehicles, 460 million motor vehicle drivers and 5.198 million kilometres of roads, including 161,000 kilometres of highways, 4.382 million kilometres of rural roads and 493,000 kilometres of urban roads. By the end of 2020, there are 214 cars per 1,000 people nationwide, and 70 cities have more than 1 million cars.
The "14th Five-Year Plan" period is at the historical intersection of the "two one-hundred years" goal, and is entering a new stage of high-quality development, where road traffic factors such as people, vehicles and roads will continue to grow rapidly. It is expected that by 2025, the number of motor vehicles will exceed 460 million, the amount of drivers will exceed 550 million, and the road mileage in China will exceed 5.5 million kilometres. At the same time, the shift in the focus of traffic factor growth from large cities to small and medium-sized cities and towns, the changes in rural traffic and travel brought about by the revitalization of the countryside and urban-rural integration, the safe travel of the elderly caused by an ageing society, the changes in traffic flow and travel modes brought by the rapid emergence of new technologies and new business models such as vehicle-road collaboration, autonomous driving and shared mobility, and the people's aspiration and pursuit of better traffic and travel, etc., all place higher demands on road traffic safety work has raised higher requirements.
The Plan proposes that the modern governance of road traffic will reach a new level. The road traffic safety management mechanism will be further improved, departmental cooperation will be further strengthened, the main responsibility of enterprises will be further solidified, social participation will be further improved, and the modern governance system of road traffic will be further improved.
Road traffic governance capacity will reach a new level. Handling affairs according to law and systemic thinking are continuously integrated into road traffic safety governance, new technologies such as big data, artificial intelligence and 5G are fully applied to road traffic safety management, the traffic flow is significantly improved, and the capacity of risk prevention and control, law enforcement control and emergency rescue is significantly enhanced.
The essentials of road traffic safety will be improved. Highway, road and city street safety facilities will be more standardized and improved, and the road traffic environment will be more friendly and safer. The safety and technical standards for motor vehicle products will become stricter, production consistency and active and passive safety will be significantly improved, and intelligent auxiliary safety and security technologies will be widely used.
The awareness of road traffic civilization will again be raised. The public's awareness of traffic safety, law-abiding and rules will be significantly enhanced, the national road safety publicity and education system will be further established and perfected, and a civilized car society matching the degree of motorization in China will be basically taken shape.
Road traffic accident prevention will achieve new results. In an environment which the motor vehicles, drivers, road mileage and road transport volume are increasing significantly, the number of road traffic accident fatalities will fall steadily, the number of larger road traffic accidents will be effectively controlled, serious road traffic accidents will be effectively curbed, and the overall road traffic safety situation will be stable and good.
To reach these goals, the Plan proposes seven major tasks: improve the modern governance system of road traffic safety; improve the ability of road traffic safety governance according to law; create a safe and orderly road traffic environment; strengthen the essential safety of vehicles and operational safety; enhance the safety and civilized quality of road traffic participants; improve the mechanism of road traffic emergency rescue and first aid; deepen the innovative application of road traffic safety science and technology.
Translated and Edited by: Junyi Fan