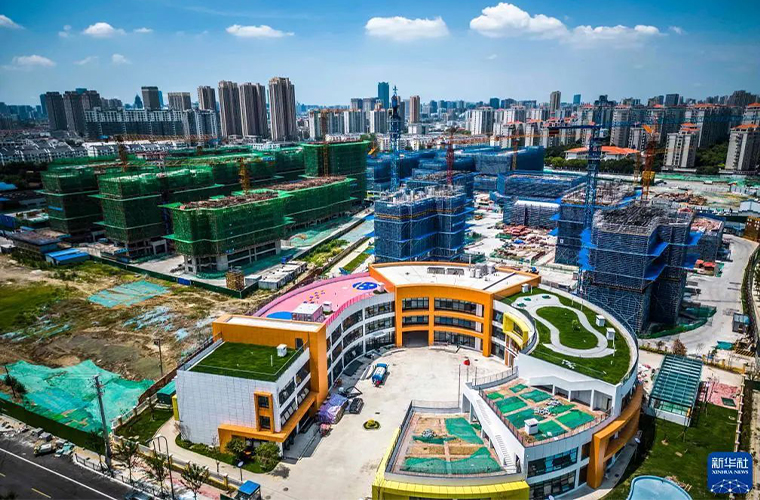 In recent years, Yaohai District of Hefei City, Anhui Province has actively promoted the renovation of urban villages under its jurisdiction. Photo taken on Aug 3 shows the renovation project of urban village in Gongdatang. [Photo by Xie Chen from Xinhua News Agency]
The uniquely Chinese term "handshake buildings" describes buildings built so close together that it's as if they are shaking hands with each other. Amid the exceptionally close proximity of these structures, built on streets barely spanning 3 meters wide, a vibrant tapestry of life unfolds in many Chinese cities.
Within them lies a harmonious blend of establishments—restaurants creating enticing aromas, hair salons resonating with chatter and lottery outlets inviting in the hopeful. The pace of the scene is punctuated by the occasional whirr of electric scooters zipping through the limited space. Overhead, slivers of sky peek through packed buildings, while vibrant garments dangle out to dry from window grates, adding splashes of color to the scene. This microcosm encapsulates the essence of China's "urban villages."
Urban villages, known as chengzhongcun in Chinese, refer to rural communities that have become part of cities as China urbanizes. Some of them are located in the shadow of skyscraper-crowded downtown areas and others lie on the outskirts.
These pockets of "rural land" are not subjected to the development plans of urban areas, allowing the residents to expand existing structures and build new ones for housing or commercial purposes. Over the decades they have done so, the spaces between the buildings have been reduced to hand-shaking distance and the villages have become a source of affordable housing for newcomers to the cities from other regions.
With everyday life in the villages standing in stark contrast to the modernity that surrounds them, these communities remain as islands of distinct cultural identity within the cityscape. However, issues like overcrowding and a lack of effective administration have posed significant threats to residents' quality of life and safety, highlighting the need for improvement.
Urban village renewal projects are not new, but they have occupied a more prominent place on the agenda of central and local authorities this year, suggesting increased emphasis on raising the living standards of their residents.
01 Pressing market demand
On April 28, a meeting of the Political Bureau of the Communist Party of China (CPC) Central Committee, which consists of the Party's highest-ranking officials and decides on major issues, underscored active and steady promotion of the renovation of urban villages in super-large and mega cities and the construction of public service facilities there.
On July 21, a State Council Executive Meeting adopted a guideline on renovating villages in cities in a proactive yet prudent manner to improve resident's wellbeing, expand domestic consumption and promote high-quality urban development.
On July 24, the political bureau reiterated its April decision at a meeting.
"It's the first time urban village renovation has been included in the top leadership's agenda in more than 40 years," Yin Zhi, Executive Deputy Director of the Institute for China Sustainable Urbanization at Tsinghua University, told Beijing Review.
The initiative will begin in super-large and mega cities to serve as a model. According to official definitions, a super-large city has a permanent urban population of more than 10 million and a megacity has one between 5 million and 10 million. The seventh national census in 2020 showed 21 cities had crossed the population thresholds, including Shanghai, Beijing, Chongqing, Tianjin, and Guangzhou and Shenzhen in Guangdong Province.
"The 21 cities are home to one fifth of China's population and generate one third of GDP. They are of great significance to the country's economic development, international engagement and exploration of modern governance approaches," Yin said.
Currently, a main challenge to China's large cities lies in supplying affordable housing for new residents coming from rural areas and young people, and urban village renovation presents a new and feasible solution, according to Yin.
Since reform and opening up began in late 1978, Chinese people have witnessed a significant improvement in housing conditions, with per-capita residential space surging from 8 square meters in the early 1980s to approximately 40 square meters today. However, skyrocketing housing prices in the past more than a decade and stubbornly high rental prices have led to many new and young urban residents being unable to find affordable housing, he explained.
"With a focus on increasing the supply of rental housing accessible to these groups, the renovation of urban villages will not only lower their living cost, as the rents will be much lower than in the surrounding urban areas, but also generate additional income for the villagers, thereby narrowing urban-rural income gap," Yin said.
Bo Wenxi, chief economist at wealth management firm IPG China, told Beijing Review that urban village renovation is a crucial lever for expanding fixed assets investment, which is one of China's troika of growth drivers, together with exports and consumption.
According to CITIC Securities, a Chinese securities brokerage, the process of urban village renewal is projected to span around a decade, with an annual direct investment of roughly 1 trillion yuan ($137.2 billion).
Wen Bin, chief economist at China Minsheng Bank, told China Daily that the transformation of urban villages will also promote the consumption of big-ticket items, including construction materials and household appliances, and the development of public service facilities for healthcare and entertainment.
With effective investment and greater consumer spending, the country will be better-positioned to sustain its sound momentum of economic recovery and growth, Wen said.
02 Ongoing efforts
"There are reasons for the continued existence of urban villages," Yin said. Many of them are densely populated, a situation that has made the urbanization costs associated with job creation, housing provision an public services unaffordably high for the government, especially at the early stage of the process, when development funding was scarce. The rural communities have consequently remained untouched in fast-growing cities and gradually evolved into gathering places for new urban residents with inexpensive rents, according to Yin.
Currently, urban villages are plagued by a wide range of problems. Bo said their subpar living conditions and inadequate public services are not in line with the broader goal of improving public wellbeing, and disorderly land and property use hinders overall urban development. Moreover, safety and other governance issues also pose challenges for the government.
Chen Sheng, President of the China Real Estate Data Academy, told Beijing Review that obtaining the necessary funding and formulating supporting policies to facilitate the renewal of urban villages will require great effort.
Local governments' exploration of urban village renewal is already underway. Some cities have focused on renovating old properties, addressing potential safety risks, adding public service facilities and improving the living environment. In other places, part of the old communities are being repurposed for non-residential uses to generate higher financial returns or transformed into parks and art centers.
"It's crucial to take into account the villagers' needs and protect their interests in the process of renovation," Yuan Shuai, Deputy Secretary General of the Rural Revitalization and Construction Committee of the China Culture Administration Association, told Beijing Review.
"This round of urban village renewal should promote equitable access to basic public services for all," Yin said. "It's essential to seize this opportunity and help a broader segment of the population to share in the benefits of urbanization and promote high-quality urban development."
Instead of relying solely on government-led investment alone, private businesses should be encouraged to participate in the initiative with great potential, he added.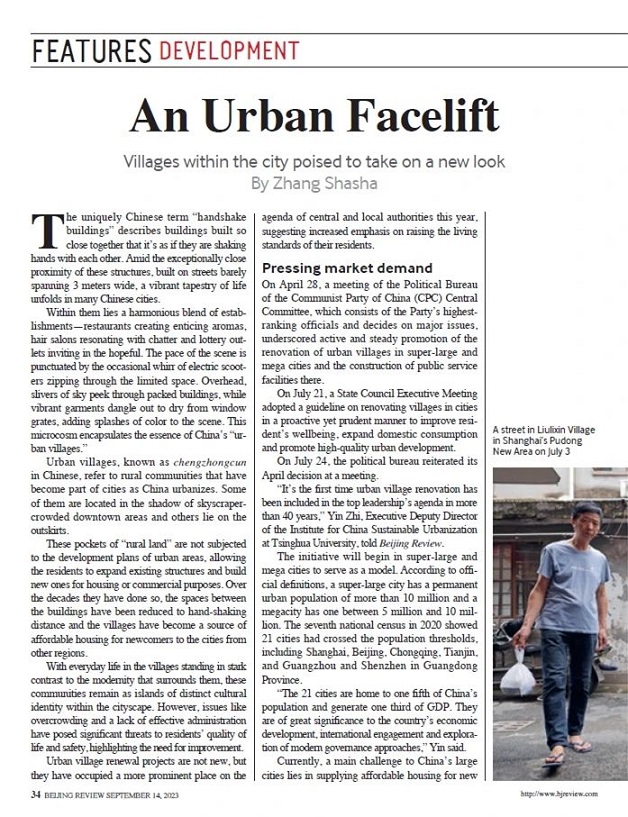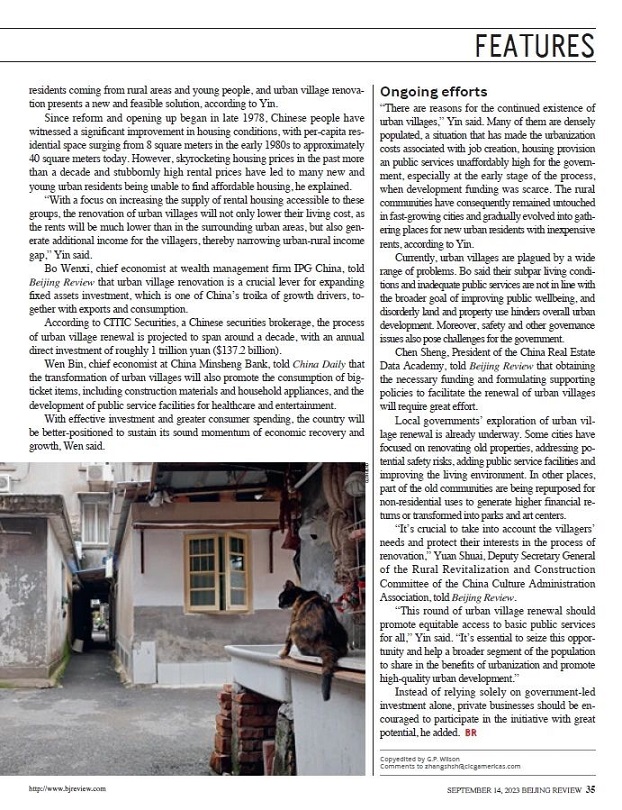 Source: <https://mp.weixin.qq.com/s/qrPuOHxc600VSUokkH_t_Q>
Author:Zhang Shasha,Beijing Review reporter