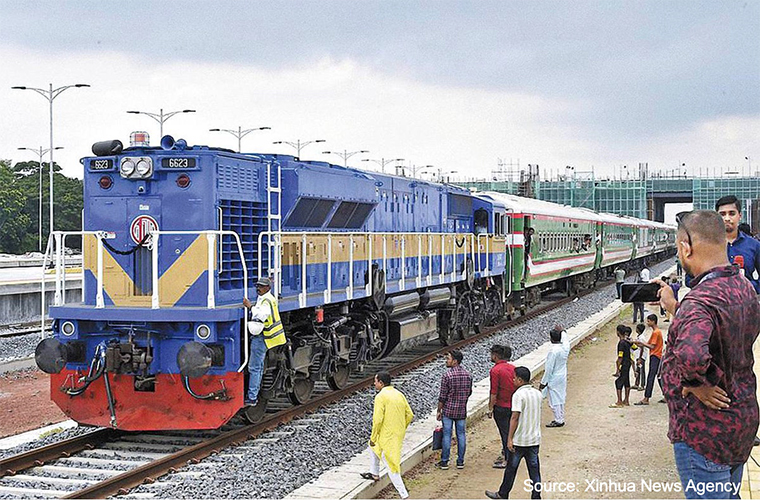 A man (right) takes photos of a train ready for a trial run along the newly-constructed mega rail line via the China-built Bangladesh's largest Padma Bridge on the outskirts of Dhaka, Bangladesh, on Sept 7. [Photo/Xinhua]
It used to take Rukhsana Parveen Khan 30 to 45 minutes to reach Bonani from Dhaka, the capital of Bangladesh. Today, the journey takes a mere five minutes. "This is excellent," she told Xinhua News Agency. "I use this road daily and will benefit greatly from it."

The road Khan mentioned is the First Dhaka Elevated Expressway, one of Bangladesh's flagship infrastructure projects, which partially opened to traffic on Sept 3.

The capital and the country's largest city, Dhaka has a population of nearly 20 million. However, the inadequate road infrastructure has made for frequent traffic congestion. "We have to struggle with traffic jams every day, so it's terrible for us," said Khan.

To solve the problem, the 19.73-kilometer expressway project, with a total investment of $1.26 billion, was launched on Jan 1, 2020, under the guidance of the local government. China's Shandong Hi-Speed Group Co Ltd is the project's leading investor and builder.

However, advancing the project was not easy. According to Zheng Xiaozhong, director of Shandong Hi-Speed International Bangladesh Co Ltd, a section of the road crosses a railway line with trains passing every 15 minutes on average, leaving almost no time for construction.

To solve the issue, the contractor designed an "adjustable mobile door frame" using cast-in-place crossbeams. Thanks to the innovative construction technology, the project's first phase was officially open to traffic in September.

Speaking at the expressway's opening, Bangladeshi Prime Minister Sheikh Hasina called it "a new milestone in Bangladesh's city mass transport system", adding that it would play a significant role in developing communication between the capital and the rest of the country.

Bangladesh is the first South Asian country to join the Belt and Road Initiative. Since then, Bangladesh has made significant progress in its Belt and Road cooperation with China, particularly in infrastructure construction.

The Padma Bridge Rail Link project, which passes through Bangladesh's largest Chinese-built Padma Bridge, is one of the most significant projects under construction by China Railway Group Ltd and funded by the Export-Import Bank of China.

The Bangladeshi government recently launched an experimental passenger train with Chinese-made coaches on a section of the newly constructed mega rail line.

This is a "historic moment", Bangladeshi lawmaker Saifuzzaman Shikhar told Xinhua. "I'm crossing the Padma Bridge by train. It used to be a dream, but it is a reality today."

The entire 172-km project is scheduled for completion in 2024. It will serve as a vital channel connecting Dhaka to more than 20 districts in the country's south and is expected to greatly promote regional connectivity and economic development.

Taking the train, Bangladesh's Railways Minister Nurul Islam Sujan expressed his hope that China will continue cooperating with the country.

While improving road traffic, BRI projects in Bangladesh have trained many professionals, including designers and engineers.

Until now, Chinese enterprises have built 12 roads and 21 bridges in Bangladesh, with several transportation projects underway or to be implemented soon, creating hundreds of thousands of jobs.

Infrastructure, the bedrock of connectivity, is a priority goal of Belt and Road cooperation. Hasina recently said that Belt and Road cooperation has opened a new development door for Bangladesh.
Source:<https://global.chinadaily.com.cn/a/202310/16/WS652c8e23a31090682a5e8ab1.html>