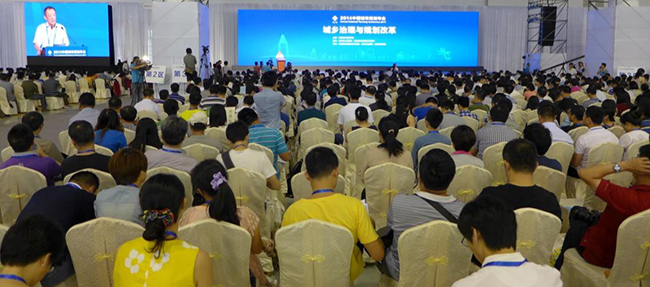 Founded in 1956, the Urban Planning Society of China (UPSC) has grown to become the biggest network of city and regional planners in China, especially creating and sharing knowledge for urban and rural planning discipline development,

One of the main activities of UPSC is the organization of its Annual National Planning Conference which focuses on a planning theme of most updated academic interest. Attended by some 10000 delegates, ANPC has been the most influential event of high academic quality in China's urban and rural planning field.
ANPC takes place in a different city every year. UPSC has held ANPCs on vital topics in the field of urban and rural planning in every year since 2001. ANPC themes include sustainable development and rational planning, 60 years of urban planning in China, new status-quo of China's development, urban-rural governance and planning reform, and etc. Host cities include Hangzhou, Xiamen, Beijing, Xian, Guangzhou, Ha'erbin, Dalian, Tianjin, Chongqing(2010), Nanjing(2011), Kunming(2012), Qingdao(2013), Haikou(2014), Guiyang(2015), Shenyang(2016) and Dongguan(2017) .

ANPC are open to UPSC Members (reduced fees) and non-members. It provides a platform for establishing professional as well as personal contacts with colleagues from all around the world. Special sessions were jointly organized by UPSC and international organizations or professional organizations in Hong Kong and Macau area, such as "Metropolitan Planning and Social Inclusion: International Trends and Experiences" (with UN-HABITAT), "Challenge on Inclusiveness, Opportunity of Diversity: Exploration of Planning in Hong Kong " (with Hong Kong Institute of Planners), "Planning in a Multi-Culture World:Urban Culture and Vitality of City"(with International Society of City and Regional Planners), "City Green Transition and Development Forum"(with UN-HABITAT),"Public Participation: Experience of Macau" (with Macau Urban Planning Institute),"Hong Kong Young Planner Workshop" (with Hong Kong Institute of Planners),"Workshop of Young Planners of Guangzhou, Shenzhen, Hong Kong and Macau" (with Hong Kong Institute of Planners)。 Since 2014, Hong Kong Institute of Planners has been jointly hosting special two sessions on ANPC for 4 years.