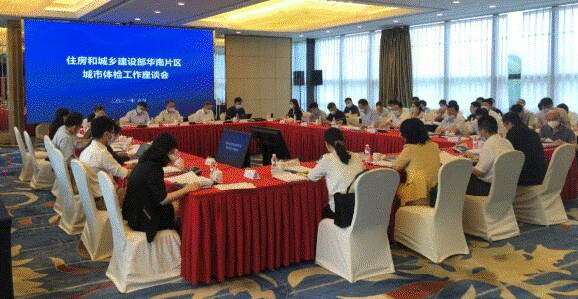 On June 1st, 2021, the Department of Building Energy Conservation and Technology of the Ministry of Housing and Urban-Rural Development of People's Republic of China (MOHURD) organized a symposium on urban diagnosis of southern China in Changsha, Hunan Province. Experts discussed the progress of the UPE work and carried out relevant training work.
The sample cities in Southern China have already begun to coordinate urban planning and construction management by urban diagnosis, promoting the implementation of urban renewal actions, and the transformation of urban development and construction methods. Changsha has explored a "six-step work method" for the urban construction. Xiamen has selected a number of communities to conduct a complete residential community diagnosis, and established a "city-community" two-level evaluation model of urban diagnosis. Haikou has conducted a comprehensive diagnosis for key issues, deeply analyzed the deep causes and interrelationships of "urban diseases", and provided the effective targeted governance actions.
Hunan Province, in conjunction with the application for urban renewal pilot projects, has guided Zixing, Zhuzhou, Xiangtan and other cities to carry out their urban diagnosises. Hubei Province organized Xiangyang, Yichang and other cities to carry out pilot projects inside province, and guided the pilot cities to integrate urban diagnosis with urban renewal and urban municipal infrastructure construction.
The symposium emphasized that the urban diagnosis was an important task, and all provinces and cities should coordinate urban planning and construction management through the implementation of urban diagnosis to strengthen accountability. The connotation of urban diagnosis indicators in 2021 should be further studied. It is necessary to coordinate urban safety and development, adhere to the concept of green and low-carbon, and accurately find issues in the construction of human settlements. The most important thing is to incorporate the urban diagnosis results into the related plans of "14th Five-Year Plan", and promote the normalization and dynamization of local planning implementation evaluation.
During the symposium, the experts conducted trainings on the overall situation of the urban diagnosis, working methods and data acquisition methods, social satisfaction survey work methods, and key points for the construction of the urban diagnosis evaluation information platform. At the same time, the experts also communicated with representatives from all over the country in depth and answered their concerned questions.
The vice-director of the Department of Building Energy Conservation and Technology of MOHURD, Yang Hongyi, attended the symposium and clarified work requirements. Tang Kai, Chairman of the Urban Diagnosis Expert Steering Committee and President of China Urban Planning Association, made a special training course for the trainees. Housing and Urban-Rural Development Department of Hunan, Hubei, Hainan and Fujian province, and relevant persons in charge in sample cities such as Changsha, Changde, Wuhan, Huangshi, Haikou, Sanya, Xiamen, Fuzhou and et al. also attended this symposium and gave speeches.
Source: http://www.planning.org.cn
Translated by Miao Wang