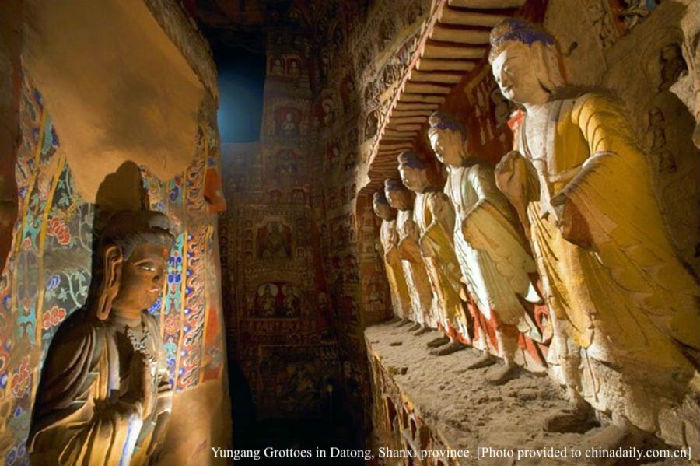 Historical and cultural heritage in China will be further protected under a new set of guidelines, which aim to safeguard them under ongoing urban and rural development.
The guidelines, recently released by the State Council, call for efforts to establish scientifically designed and effective heritage protection systems in urban and rural areas to provide strong support for developing a great socialist culture in China.
The system will cover areas including ancient buildings, streets, neighborhoods and towns, as well as historical sites, natural landscapes, cultural settings and intangible cultural heritage.
"It is the first time the central government has released a document on these issues since the country established a protection system for historical and cultural cities in 1982. The guidelines will play a leading role in protection work in the future," said Huang Yan, vice-minister of housing and urban-rural development.
The guidelines prioritize heritage protection efforts while encouraging the coordination of the protection, utilization and continuation of historical and cultural heritage.
A preliminary multilevel, multielement system to protect and continue historical and cultural heritage will be established nationwide by 2025, it said.
By 2035, systematic and fully functioning mechanisms for historical and cultural heritage protection and development will be established in urban and rural areas, and well integrated into the country's economic and social development.
According to the guidelines, greater efforts should be made to address problems, such as damage to and demolition of historical and cultural heritage sites during urban and rural construction.
"We will establish a supervision mechanism to prevent such problems from happening. In the near future, historical and cultural heritage protection will also be included in the local government job rating system," Huang said.
"Also, reports from the public on the damage and demolition of historical and cultural heritage sites are welcomed, and law enforcement will be strengthened," she added.
Under the guidelines, authorities at all levels will continue to improve regulations, such as the Regulations on the Protection of Famous Historical and Cultural Cities, Towns and Villages.
In addition, more funds and investment will be allocated for the protection of historical, cultural heritage, with more educational and training activities launched.
"To ensure that the protection is well implemented, a management system should be established, which clarifies the responsibilities of related sectors at all levels," said Yang Baojun, chief economist at the ministry.
Yang urged local governments to draw up a list of sites that should be protected and make tailored protection plans on a case-by-case basis.
Activities such as changing the name of historical sites and removing trees with historical significance will be prohibited under the guidelines.
China has made remarkable improvements in the excavation, utilization and protection of cultural relics over the past years.
It is now home to 766,700 unmovable cultural relics, 108 million items of State-owned movable cultural relics and 56 UNESCO World Heritage sites, including the ancient port of Quanzhou, the starting point of the Maritime Silk Road.
Source:<https://global.chinadaily.com.cn/a/202109/09/WS613942b5a310efa1bd66e3be.html>