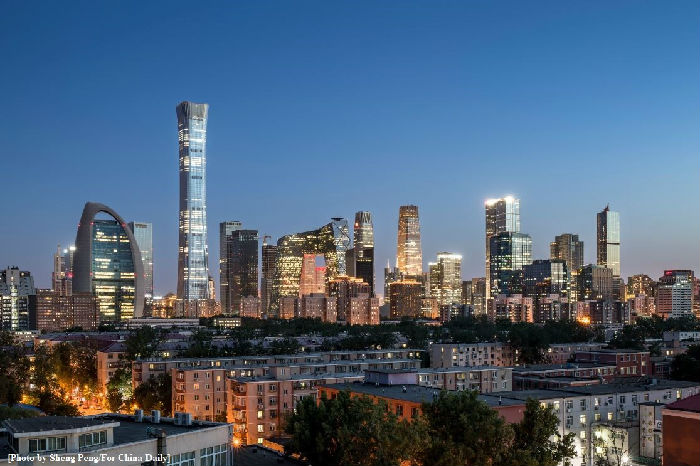 Ministry rolls out rules for business districts
The Ministry of Commerce released a guideline on Aug 11 regarding the development of business districts in Chinese cities, saying that large-scale demolition and reconstruction should be avoided.
The guideline said that the overall scale of business districts in a city must be determined according to the city's economic development level, population and its demand for consumption.
The number of newly built or expanded commercial buildings in oversaturated business districts located in urban centers must be strictly controlled, while efforts should be prioritized to promote business development in communities, it said.
It noted that the development of urban business districts should follow the law of business development. Further, builders should refrain from only pursuing the construction of tall buildings and avoid large-scale razing and reconstruction.
Business districts should coordinate with a city's functions and living environment while commercial activities provided by such areas should match residents' demands, it added.
The guideline also mandated efforts to explore the establishment of a governance model for urban business districts that would involve government guidance, self-discipline and consistency among business proprietors and industries, and supervision and feedback from society.
Policies look to lure workers to rural areas
The central government has rolled out a series of supportive policies to attract fresh college and university graduates, young migrant workers and veterans to work and start businesses in rural areas, the Ministry of Agriculture and Rural Affairs has said.
In a written reply to a proposal about how to enhance the attractiveness of agriculture that was raised in March during the fourth session of the 13th National People's Congress, China's top legislature, the ministry said the policies include tax cuts and exemptions for entrepreneurs and the establishment of industrial parks to provide convenient, low-cost services for startups.
Efforts are also being made to encourage talent to return to their hometowns, to cultivate high-quality farmers and to use the internet to expand the market for agricultural products, the ministry said.
In addition, the ministry plans to boost policy support and improve services for entrepreneurs to motivate more young people to contribute to the country's rural vitalization.
New guidelines target autonomous driving
Authorities have released a set of guidelines regulating road testing, autonomous driving and other issues related to the development of the nation's intelligent connected vehicles.
The guidelines, jointly issued by the Ministry of Transport, the Ministry of Industry and Information and the Ministry of Public Security, will take effect on Sept 1.
China has established 16 demonstration zones for ICVs with more than 3,500 kilometers of roads open for testing. Over 700 licenses have been issued for testing smart vehicles, and these vehicles have so far accumulated total testing mileage of 7 million kilometers.
According to the guidelines, smart vehicles that have been proven to be safe and reliable after testing will be allowed to participate in demonstrations carrying people or objects.
Areas for testing and demonstrations are being expanded to include highways and urban roads.
Under the guidelines, road testing refers to the autonomous driving activity of ICVs on designated sections of roads. Demonstrations refer to ICV trial operations carrying people or objects on those sections.
Source: <https://mp.weixin.qq.com/s/a24lSjUsPptCg9YcSMj4gg>
<http://www.chinadaily.com.cn/a/202108/18/WS611c601ea310efa1bd66975b.html>