The Tokyo Olympics came to an end on August 8th, but stories of the Olympics always inspire us. As the CGTN reported, "Instead of continuing to live vicariously by watching their athletes compete on a computer, phone or television screen, many Chinese are nowadays inspired to follow their lead by at the very least becoming healthier themselves." Since the 2008 Beijing Olympics, China has been putting more effort into engaging the public in sports and exercise and promoting a healthy lifestyle. Many national policies have been published to improve the health level of the whole nation, such as the national fitness strategy issued in 2016 and the outline for building a leading sports nation published in 2019. To make their citizens more healthy and happy, the city, Chengdu, also focuses on improving the sports facilities and creating more sports space. On July 22th, 2021, the "Guidelines for Creating Sports Space Near Residents' Homes" was officially published, as the first planning guideline for sports space at the neighborhood level in China.
1.What is sports space near residents' homes?
The guideline defines a kind of sports space that locates near residents' homes or their workplaces within a distance of 1000 meters (about 15 minutes walk). Creating this kind of sports space makes all citizens easily find a place to do fitness. The sports space should have four features: 1) The facilities and equipment should target people of all ages, genders and occupations. 2) The sports space should be within a 5-minute walk, a 10-minute walk, or a 15-minute walk. 3) People can easily use the sports facilities for free or at a low price. 4) The sports facilities are operated and managed by diverse suppliers and agencies.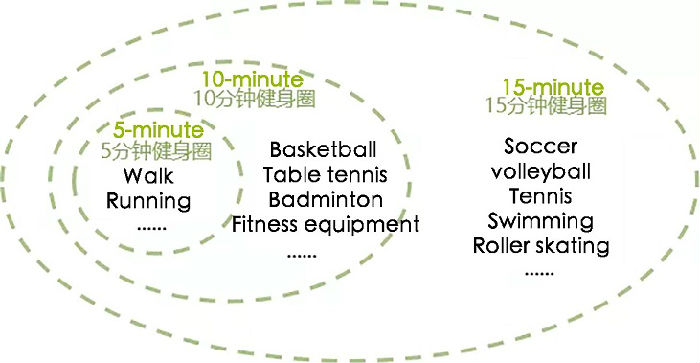 The types of sports within a 5-minute walk, a 10-minute walk or a 15-minute walk
2.What kinds of sports space will be built?
In Chengdu, different kinds of sports facilities have been built up, such as sports complexes, small-scale sports spaces in neighborhoods, sports parks and sports facilities in greenways.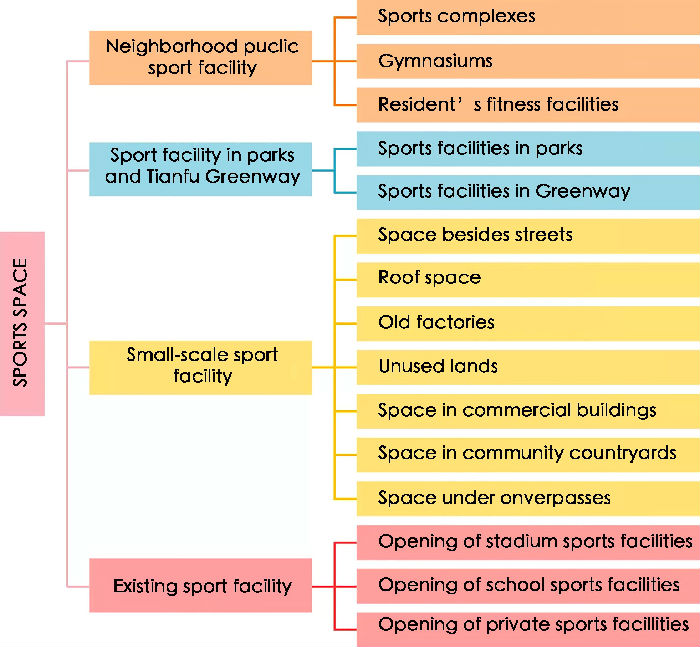 The sports space system in Chengdu
Sanwayao Sports Complexes
Sanwayao sports complexes locate in a residential community of Chengdu city, including a playground for basketball, croquet and running tracks, and a fitness center.

Photos of Sanwayao sports complexes
Jiaozi Sports Park
Jiaozi sports park locates in Gaoxin District of Chengdu. In the sports park, there are a basketball playground, a children's playground and walking tracks.

Photos of Jiaozi sports park
Sports facilities in Jinjiang Greenway
Many sports facilities, such as football fields, basketball playgrounds, volleyball courts, ping-pong tables and outdoor exercise facilities, were built in Jingjiang Greenway.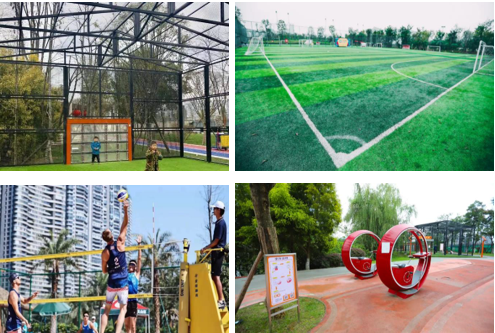 Photos of sports facilities in Jinjiang Greenway
WePark football playground
WePark football playground is a neighborhood sports space built on the setback space between buildings and streets. There are three small playgrounds for cage football.

Photos of WePark football playground
3.The goals for creating sports space in Chengdu
This guideline makes many case studies on the best sports space around the world and then sets up the goals for creating sports space in Chengdu.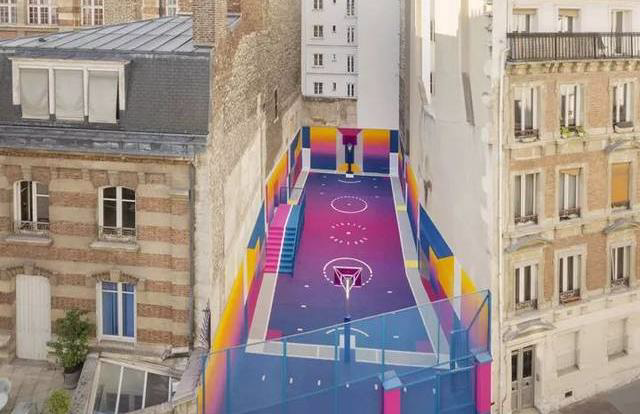 A neighborhood basketball playground in Paris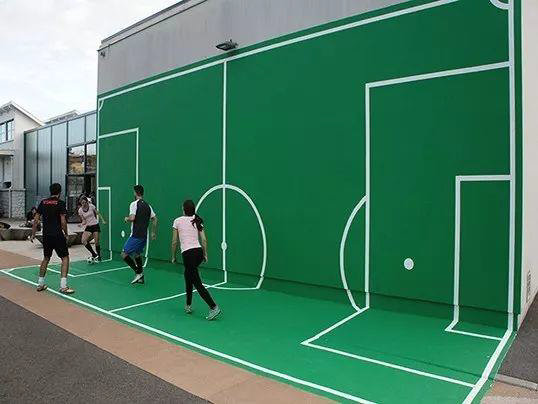 A small-scale football field in Rio de Janeiro
Goals
1)The average sports space per person will increase to 2.6 sq. meters by 2025 and 2.9 sq. meters by 2035.
2)By 2025, more than 50% of neighborhoods of all districts (counties) have a least one outdoor sports field, and by 2035 all neighborhoods should have outdoor sports fields.
3)By 2025, more than 50% of neighborhoods of all districts (counties) have a least one sports complexes building, and by 2035 all neighborhoods should have sports complexes.
4)By 2025, six sports parks will be built and by 2035 this number reaches ten.
5)Promoting the openness of existing sports facilities.
The guideline points out that the local governments should organize the design and building of neighborhood sports space to establish a 15 minutes sports circular and provide places for residents' daily exercise.
The guideline also lists the requirements for creating sports space in urban parks and greenways. All the new parks should include outdoor playgrounds for group sports, such as football, basketball, volleyball and tennis, in their design. It provides detailed guidance on the layouts and building standards of different kinds of sport spaces.
You can download the guideline in full:
<http://gk.chengdu.gov.cn/uploadfiles/070331020201/2021080511221608.pdf>
Source: <https://mp.weixin.qq.com/s/0XK-ihI-YyHfqlc6Adzxyg>
Edited and translated by Jia Mengyuan