Zhou Ying (School of Architecture of Southeast University)
Cui Yifan (School of Architecture of Southeast University)
Wen Jian (School of Architecture of Southeast University)
Li Yidi (School of Architecture of Southeast University)
Why do we need anti-epidemic hospitals?
From SARS of 2003 to H1N1 of 2009, and from Ebola of 2014 to COVID-19 at the end of 2019, we've been somehow suffering frequent outbreaks of epidemics as the world's become increasingly globalized. As the aftershocks of COVID-19 are still felt across China, much of the world is grappling with it like riding on a roller coaster. The unknown origin of the epidemic has made every one of us increasingly perplexed and disconcerted. Who knows whether there would be another strike!
So what should we do? I've been haunted these days by images of lack of access to hospitalization and beds, and as a medical architect, I've also been thinking of solutions. At last I came up with a preliminary idea about building anti-epidemic hospitals. So what is an anti-epidemic hospital? It's not something as Xiaotangshan, a hospital in Beijing that was dedicated to treating patients of SARS during its outbreak, or Huoshenshan and Leishenshan either, two emergency specialty field hospitals built in response to COVID-19. It's actually a permanent general hospital (or its pneumology center relatively independent of it) that meets anti-epidemic standard and has a strong pneumology department. With sophisticated medical care that can be provided by the pneumology department, it's mostly dedicated to treating respiratory diseases in normal times and operates a fever clinic to prevent any epidemic outbreaks. But if an epidemic breaks out, it would be capable of swiftly transforming itself into a medical facility that can admit and treat far more patients than it normally does with just some simple approaches of transitioning from normality to epidemic control and rapid capacity expansion. In a word, an anti-epidemic hospital shall be able to meet medical needs in both normal times and the epidemic period in a way that is cost-effective.
But why not build as many hospitals for infectious diseases as possible? This is largely because people seldom pay a visit to such hospitals for respiratory diseases and it's normally very hard for hospitals with too few patients to offer sophisticated medical care techniques for respiratory diseases. Only with abundant practice in respiratory disease diagnosis, treatment, and nursing, can medical staff accumulate experience and develop instincts in effective treatment, and can they be more likely to have correct judgment even if in the face of unknown viruses. And again, with better medical care for respiratory diseases, anti-epidemic hospitals would have better epidemic prevention and control during an epidemic.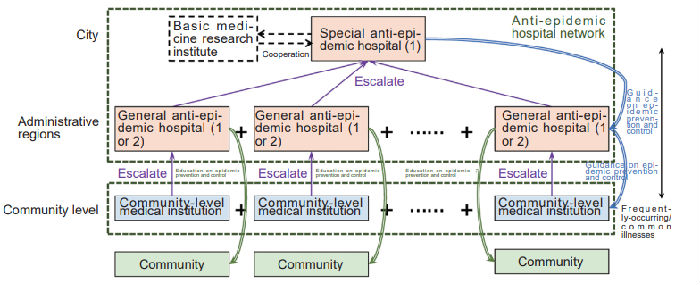 Layout of anti-epidemic hospitals based on administrative regions
What would be the proper size of an anti-epidemic hospital?
Many people in China prefer large hospitals for illnesses mild or serious owing to their entrenched belief that they are more plausibly trustworthy than small hospitals. But if an anti-epidemic hospital is too large, it would be far more likely to have cross-infections not only among patients but between patients and medical staff. And in a large hospital with many rooms, it would be more difficult to control atmospheric pressure differences between hygienic and contaminated zones and among different rooms, and it would hamper the efforts to prevent hospital-acquired infection. Also, many patients suffering other illnesses would be admitted to a large hospital during the outbreak of an epidemic, which makes it inappropriate to be used as the one dedicated to epidemic prevention and control. That said, a hospital too small would not be suitable to deal with an epidemic either, as it would require special medical equipment and air and sewage disposal and discharge facilities that can only be cost-effective in a large hospital, much less a community-level hospital proximate to a residential area.
Anti-epidemic hospitals, based on the author's research, can be classified into special and general ones. A special anti-epidemic hospital is a new polyclinic with a strong pneumology department and a capacity of roughly 1,000 beds, whilst a general anti-epidemic hospital can be an independent pneumology center rebuilt from a polyclinic in a way that best suits the need for epidemic prevention and control and provides up to 500 beds.
Where should an anti-epidemic hospital be built?
As some air, sewage, and waste may be contaminated in an anti-epidemic hospital during an epidemic, it would be better to build it in a place with no water sources and in a downward wind direction that is environmentally friendly. And there needs to be an open space outside an anti-epidemic hospital for medical rescue and medical capacity expansion that would not only help provide easier access to hospital for patients on one hand but would be conducive to epidemic prevention and control for the hospital. So what would be the best location for building such hospital? There are basically two types: one is an anti-epidemic hospital based on administrative regions, and the other based on the so-called "secondary medical care circle"。
An anti-epidemic hospital based on administrative regions
Building an epidemic hospital based on administrative regions is the easiest way to do so. Take Wuhan for example, a special anti-epidemic hospital can be built within a city, with one or two general anti-epidemic hospitals built in each administrative region of the city, which looks easy to do. But if the land area, population size, and traffic condition vary widely from one administrative region to another, such approach wouldn't necessarily ensure equal access to hospital.
An anti-epidemic hospital based on the secondary medical care circle in a broader commuting and life circle
To provide equal access to medical facilities, Japan introduced the so-called medical care circle. Each of the 47 prefectures in Japan, except Hokkaido and Nagano, is seen as a tertiary medical care circle based on the country's medical care plan to provide advanced medical care. And each of the prefectures is comprised of several cities, towns and villages (collectively known as municipalities),with each regarded as a primary medical care circle, to provide everyday medical care. Inpatient care, the most important part of Japan's medical care, is provided by its secondary medical care circles, which are based not on administrative regions, but largely on people's commuting and life circles that can better reflect the sphere of people's life and the close relations among municipalities.
Take Osaka as an example. It has an area of 1,894m2 and a population of 8.8 million, with 33 cities, 9 towns, and 1 village. Based on 6 commuting and life circles as well as existing hospital distribution and the need for emergency medical service, Osaka is divided into 8 secondary medical care circles. The outpatient and inpatient visits of each secondary medical care circle are kept at around 80% respectively, which ensures equal access to medical care. Also, Osaka is home to 3 national or prefectural hospitals that provide medical service mostly for respiratory diseases, each of which is unique in terms of its medical service but none of which is located in the most populous and developed medical care circles.
Japan prefers to create various circles for their medical care planning, which is familiar to the planning community in China. Its secondary medical care circles may provide some inspiration for our attempt to select the best locations for anti-epidemic hospitals.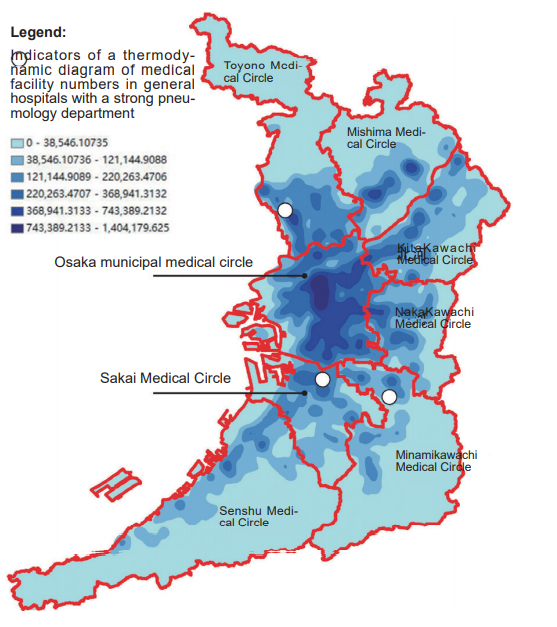 Osaka prefecture's secondary medical care circle
Connect anti-epidemic hospitals to make a network
A single anti-epidemic hospital wouldn't play much of a big role unless it's connected with one another via transport and information. Within a city, we can not only use anti-epidemic hospitals to admit and treat or transfer patients, but prevent and control an epidemic with epidemic developments reporting and anti-epidemic guidance and education between medical institutions. When an epidemic becomes so serious somewhere that hospitals there are too overwhelmed to take in more patients, the first priority is to evacuate and transfer the patients to anti-epidemic hospitals elsewhere with anti-epidemic cars, high-speed trains, airliners, and ships, rather than repurpose designated hospitals or build makeshift ones. To make it easier to transfer patients over a long distance during an epidemic, a special anti-epidemic hospital has to be in the vicinity of an airport or a high-speed train station. And there needs to be adequate outdoor open space in the neighborhood of an anti-epidemic hospital in store for any medical rescue or hospital capacity expansion during an epidemic.
A trinity that combines first aid, disaster prevention,and epidemic control
China is a country where natural disasters frequently occur, but its medical system of first aid and disaster prevention lags far behind its counterparts, which often leads to grave consequences once accidents or disasters occur. If anti-epidemic hospitals can be integrated with medical institutions for first aid and disaster prevention to form a comprehensive city-wide or even a regional system of medical institutions, then it would deliver the best possible outcomes and avoid any stopgap measures. So what specifically should we do? Let's first of all take a look at Japan's experience.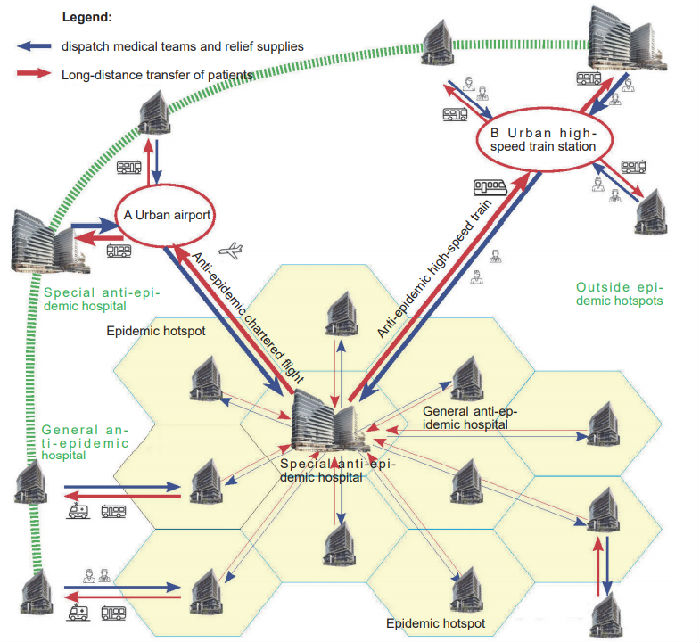 Anti-epidemic hospital network
What Japan did was essentially selecting some of the hospitals for disaster prevention, which had sophisticated medical technologies, strong anti-seismic capacity, easy accessibility, huge stockpile of supplies, and adequate outdoor open space that would contribute to their disaster prevention should any disasters such as an earthquake occur. The requirements for a first aid center in Japan are even stricter, as the hospital it relies on shall be the one for disaster prevention and it shall have a comprehensive range of medical technologies required for providing medical services to save lives. In Japan, there is one anti-epidemic hospital for every 173,000 people, and one first aid center for every 400,000 to 500,000 people.
But there are no hospitals for infectious diseases in the country, let alone the anti-epidemic hospitals proposed in this article. As for China, the best-case scenario would be a trinity, involving anti-epidemic hospitals, first aid centers, and medical institutions for disaster prevention.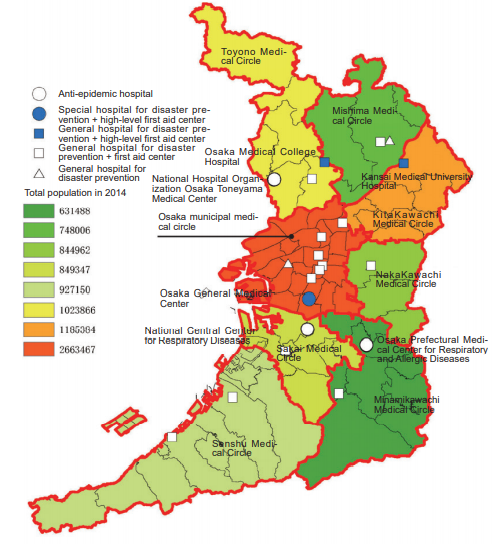 Trinity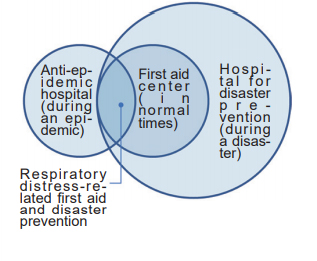 Distribution of first aid centers, anti-epidemic hospitals, and hospitals for disaster prevention in Osaka prefecture
Anti-epidemic hospitals go global
In a globalized world, no country can fight alone against a major epidemic once it breaks out. So we're obliged to introduce anti-epidemic hospitals to the world if they prove to be effective. We can build anti-epidemic hospitals on a certain island as we see fit off the coast in China's southeast, which provides medical services to residents on the island and its surrounding areas in normal times and takes in patients from cruise ships during an epidemic. In addition, China can also attempt to cooperate with local governments of countries along the Belt and Road and even in Africa and Latin America to build such hospitals that would not only help export our medical technologies but collect firsthand information about any local epidemics in a timely manner for early precaution. In other words, China shall make greater contribution to global health care and medical care.