Wang Xingping (School of Architecture of Southeast University and Nanjing Urban Governance Research Institute), Zhang Dongye (School of Architecture of Southeast University)
Not long before the Spring Festival of the year of the mouse, COVID-19 descended on China, causing a joint response nationwide to the epidemic. A first-level response to major public health emergency was launched across the country, quarantining suspected cases with every possible means at the city and grassroots levels,and banning movement of the population. As the coronavirus spread around the globe, many countries also imposed lockdowns, albeit to varying degrees. China is now gradually recovering from the epidemic, with production resuming, schools reopening, and lockdown measures eased up or lifted. It may be too early to look back and assess the lockdowns, but just like mobile cabin hospitals building, volunteers venturing out to help, and officials taking on new roles to combat the epidemic, they are worth reviewing for distilling lessons.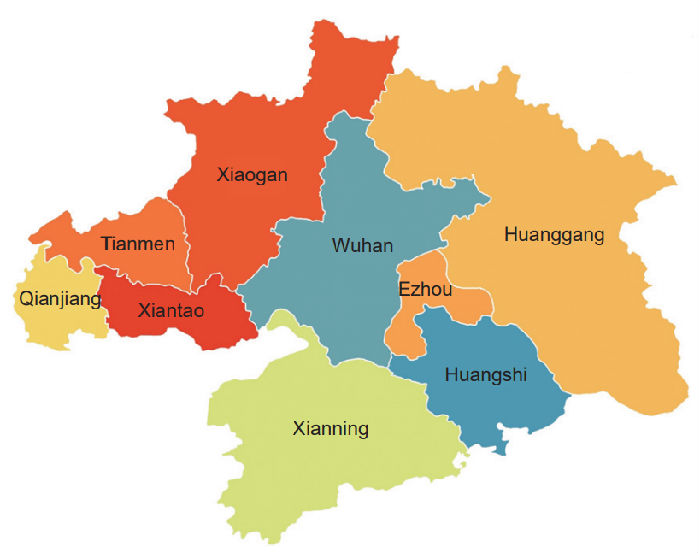 The "1+8" urban circle with Wuhan at the center Photo: Shi Yu

From lockdown to classification, haste was replaced with composure
Locking down cities or regions in the face of an emerging unknown infectious disease with no effective treatment is not something unprecedented, as it's well recorded in history. But isolating and blocking special areas with high density, gigantic scale, and powerful movement for a specific period of time would really be a daunting task.
Wuhan, the hardest-hit city in China, has long been well known as the main thoroughfare of nine provinces. It's the transport hub and central city in China's central region and the capital of Hubei Province, and one of the key transit areas during the country's Spring Festival travel rush. The cities in the "1+8" urban circle with Wuhan at the center are highly integrated and interconnected, with large numbers of people traveling between one another. As the migration data from Baidu suggested, of the 5 million people who left Wuhan before its lockdown on January 23rd 2020, 50.12% of them left for Xiaogan, Huangshi, Huanggang, Xianning, Ezhou, Xiantao, Qianjiang, and Tianmen. Such huge migration put mounting pressures upon the cities in epidemic prevention and control and sent shock waves across the whole province. But these cities don't have the advanced and major polyclinics and emergency medical facilities as Wuhan does. As the official website of Yaozh Data indicates, Wuhan is home to 31 Grade III Level A hospitals, whereas the eight cities in the urban circle of Wuhan have only 12 such hospitals in total, less than half of what Wuhan has. And the medical resources were unevenly allocated within the circle, resulting in substantial pressures on the eight cities in their combat against COVID-19 in its initial outbreak. Under these circumstances, the consequences would be inconceivable if the epidemic spread on a large scale. After prudent assessment of the Spring Festival travel rush and the development of the epidemic, Wuhan imposed urban space controls by locking down the entire city in a strenuous effort to curb the spread of the coronavirus. Stringent measures were taken to control the traffic and migration within the city: public transport systems such as buses and subways were all suspended, and airports and railways all shut down. In the meantime, from every province and city to every county, town, and village across the country, many border and space controls were introduced based on the boundary of administrative regions, such as disinfecting and ventilating every means of transportation, setting up checkpoints at entrances and exits of expressways and national highways, taking stringent epidemic prevention and control measures in communities and villages at the grassroots level, and quarantining households and buildings. These measures played a key part in containing the spread of COVID-19 and contributed to the current recovery seen across the country.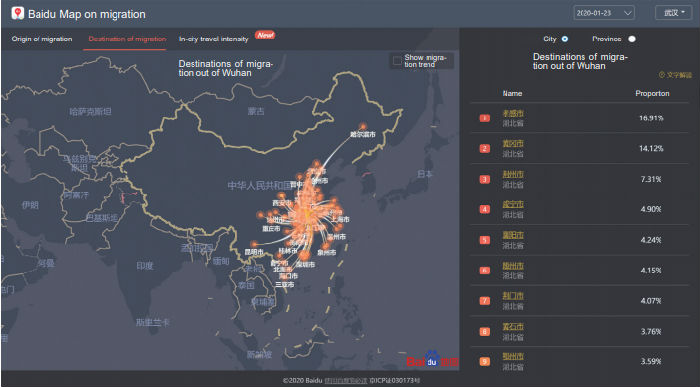 Map of destinations people left for from Wuhan on January 23rd 2020 Photo: screenshot from Baidu Map
Lockdown that started in late January might be effective in stemming the spread of the epidemic, but it also brought some unexpected difficulties to the treatment of patients that had contracted COVID-19 in its initial outbreak. Many cities were unprepared for emergencies, as evidenced by inadequate and proximate medical or emergency facilities for combating any epidemics, making it hard to quarantine patients on the spot and treat them in time. And the abrupt lockdown put cities to a halt that led to limited internal resources and inaccessible external ones, exacerbating the conflict between hospitals and patients as well as supply and demand. From the perspective of communities, as the smallest units in the fight against the epidemic, communities should first of all voice the needs and difficulties of the patients in confined communities when an epidemic struck, so that both patients and suspected cases can be quarantined and treated. But the suspension of community services as a result of lockdowns made it difficult for many patients and suspected cases in isolation to get support from their communities. And to make matters worse, some communities and villages even went to extremes to combat COVID-19, such as cutting off roads, which disrupted the normal life of residents and prevented patients at home from being discovered, quarantined, and treated in time. Although these issues were finally resolved, we still have to reflect on the problems relating to urban building, operation, and emergency management exposed during the epidemic.
In mid February after the Lantern Festival, the epidemic was gradually on the wane while the economy and society were returning to normal. At a time when the pressures built upon businesses to resume production, how to balance lockdowns to contain the spread of the coronavirus and a gradual return to normality in cities to stimulate the economy became a very important question to reckon with. The central government put forward the requirements of focusing on major tasks, coordinating multiple parties, issuing targeted guidance, and implementing targeted policies to different areas. In the Guideline on Scientific Prevention and Control, Targeted Policy Implementation, and Classification in Response to COVID-19 issued by the Joint Prevention and Control Mechanism of the State Council, it's required to scientifically classify epidemic risk levels and specify classification-based epidemic prevention and control strategies based on comprehensive review of population and morbidity at the county/district level. Some coastal developed areas were the first to resume production, reduce risk levels, and ease lockdown restrictions. Epidemic prevention and control gradually evolved from the heavy-handed approach and the single target of forcible isolation and blockade to contain the spread such as lockdowns in the initial outbreak of the epidemic, to flexible approaches and diverse targets of classification-based governance, epidemic prevention and control, and economic recovery. It looks like the transformation from sweeping lockdowns to classification-based governance has proved to be effective in both preventing spread of the virus and promoting economic development, as fewer new cases have been reported and businesses have increasingly stepped up their production.
A classification-based lockdown: review is required
One cannot have a good life without health and freedom, but both can be lost if an epidemic erupts. Most of those in areas under lockdown or hunkering down at home can only look out of windows to visually enjoy the sunshine and the wonderful spring. Despite great advances in science and technology and increased accuracy in our prediction and judgment, we were still caught off guard time and again by some of the abruptly-emerging new threats beyond human comprehension, which is exactly what we're experiencing now and will remain so in the future as we can't possibly predict all risks or take precise and timely precautions. As such, we have to learn from our failures. Party organizations and governmental departments at all levels as well as frontline workers made various tentative spatial measures to prevent and control COVID-19, which became increasingly effective as the epidemic evolved. They need to be carefully reviewed, assessed, referenced as we gradually come out of COVID-19 to develop a spatial governance guide to epidemic prevention and control that can be invoked in time and flexibly adjusted.
The transformation from the initial heavy-handed lockdown to a classification-based lockdown, can be regarded, at least for now, as an important lesson for effective spatial governance. Some may think that Singapore's approach had less economic and social cost, but it simply can't be replicated in China given the sheer size of the country as opposed to a city state. The timing and extent of lockdown and classification are worth further reflection, including the appropriate timing of starting lockdown and its feasible duration, and the scale, scope, and type of a classification-based lockdown. Imposing time-phased and classified control of people and activities with different spaces as the units for governance based on administrative regions, and at the same time given crossunit connection and regional joint epidemic prevention and control, mobilizing all forces across community networks to ensure both containment of COVID-19 spread and smooth economic reopening, would play a role in epidemic prevention and control in such a large country with massive migration and a dense population.
Of course, an effective response to an epidemic requires not only special measures such as lockdown, but the establishment of a classification-based system of diagnostic and treatment facilities with adequate stockpile, balanced distribution, and a jointly peacetime and wartime approach. From the perspective of community governance, it would have long-lasting positive effects to conduct professional training and emergency exercise for community residents and staff to really enable communities to function as the basic health units in the combat against an epidemic as it breaks out and as strong bulwarks for residents as they go into lockdown.
The sudden outbreak of COVID-19 and the extent to which it's had impact have made each and every one of us involved. There will certainly be various unpredictable and tricky new diseases to come, but the space we all live in will remain unchanged where everyone shares the same destiny. We cannot constantly live in a state of speculation and worry, but have to adopt an effective spatial governance strategy to confront any potential diseases head-on, which would at least help maintain social order and reduce panic and disconcertment. A rational, feasible, and operable-at-any-time spatial governance system for epidemic prevention and control with appropriate timing and extent of lockdown, would help us stay calm and composed. And this is where planners can contribute more of their expertise.