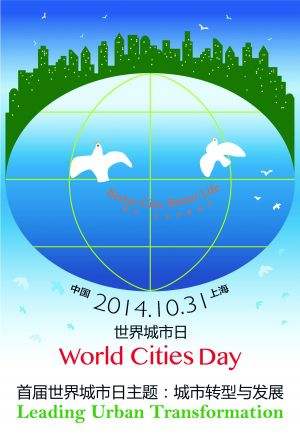 World Cities Day(WCD) is the first international dayestablished under the proposal of Chinese government.
It was proposed in the Shanghai Declaration by organizing committee of the WorldExpo, UN and International Exhibition Bureau the closing day of the closing ceremony of World Expo 2010 Shanghai China, should be nominated as World Cities Day, "… inspiring humankind in its enduring pursuit of urban innovation and harmonious development."With the joint efforts of UN-Habitat, MOHURD, CCPIT and Shanghai Municipal Government, the UN General Assembly adopted the resolution which designated 31 October as World Cities Day(WCD) in December 2013.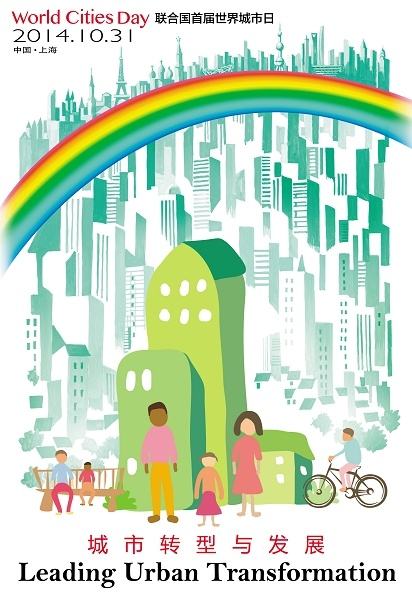 The general theme of WCD is Better City, Better Life , the theme of the Shanghai World Expo, while each year a different sub-theme is selected, to either promote successes of urbanization, or address specific challenges resulting from urbanization.
Since its establishment, The Day is expected to greatly promote the international community's interest in global urbanization, push forward cooperation among countries in meeting opportunities and addressing challenges of urbanization, and contributing to sustainable urban development around the world.
The 2014 WCD Global Observation was held in Shanghai which saw the presence of guests from 37 countries and the felicitations of Premier Li Keqiang and UN Secretary General Ban Ki-Moon. On the same day, dozens of celebration events were organized in UN Headquarters and 12 countries. During the two-day forum, renowned urban planning and designing experts from various major cities, including New York, Paris and Tokyo, have been invited to discuss urban development.
Letter by Premier Li Keqiang:
China is undergoing rapid urbanization and had a key role in creating this international day of cities.
As a big developing country with more than 1.3 billion people, China is centering on its people in the process of new-type of urbanization.
Major cities in different countries can share their experiences in tackling the challenges such as population, environmental protection, security, and emergency management.
Letter by UN Secretary General Ban Ki-Moon:
Marking the World Cities Day, UN Secretary-General Ban Ki-moon on Saturday called for good urban design to help build sustainable, socially integrated and prosperous urban environment for all.
In his message to the world day, Ban said: "Good design can help tackle climate change. It reduces the impacts of disaster."
"It can help make our cities safer, cleaner, and more equal and integrative. It promotes equal access to services, jobs and opportunities, and fosters contentment," he added.
Noting the newly adopted sustainable development agenda has included the goal to "make cities and human settlements inclusive, safe, resilient and sustainable," Ban said cities and human settlements have an important role to play in the agenda.
"Cities and human settlements are places we live, share, create, build and dream together," he said. "Let us use good design to make them sustainable, inclusive and prosperous for all."
Message of the UN-Habitat Executive Director
Dr. Joan Clos:
Cities are one of the most complex human creations. They are the places we design to live together. This year the World Cities Day focuses on the capacity that urban design has to affect how we live, how we move around, how our neighbourhoods look like and how safe we feel on the streets. Urban form is the combination of streets, building typologies and networks of public spaces. They form the underlying structure of the city, a skeleton around which people's lives are built and activities carried out.