It all started from November 2013 when UN decided to compose a technical paper, International Guidelines on Urban and Territorial Planning(IGUTP),two experts in China were called upon for this mission, me representing UPSC and Professor WANG Hongyang from Nanjing University as an expert from International Society of City and Regional Planners(ISOCARP)。 I and professor Wang followed the whole process of the drafting of the International Guidelines, including 3 round face-face meeting and all these discussions, corresponding and research, together with 23 experts from all around the world. This document was finally approved by UN-Habitat governing council by April 2015 as a prep-product of Habitat III.
2014 SHI Nan in Japan preparation meeting of IG-UTP
UPSC's role in the drafting of New Urban Agenda
After the approval of International Guidelines on Urban and Territorial Planning(IGUTP), UN started a long and hard road of 2 years towards New Urban agenda.
During the whole process, many Chinese urban experts participated the China national report and the 25 issue papers which focused on specific areas of human settlements such as housing, public space and land.
After that, Habitat III set out ten policy units to study on 10 policy papers, which identify policy priorities, critical issues, and action-oriented recommendations in relation to the implementation the New Urban Agenda. These policy papers served as official inputs in the Habitat III process and played a key role in the formulation of the zero draft of the New Urban Agenda.
UPSC is summoned to recommend Chinese experienced urban experts to participated in the policy units, and at last, Professor Maoqizhi from Tsinghua University, Dr. He Yong from Beijing Municipal Institute of City Planning& Design, and me took part in three policy units and contributed to the discussions and final outcomes.
UPSC and Italian Institute of Planning co-organized the No.6 Policy Unit, Urban Spatial Strategies: Land Market and Segregation.
2015.11 the first meeting of policy unit 6 in Barcelona
By March 2016, all the policy units had submitted the papers to the secretariat of Habitat III for the zero draft of the New Urban Agenda.On April 25, I represented UPSC in the first open-ended consultation in UN headquarters in New York.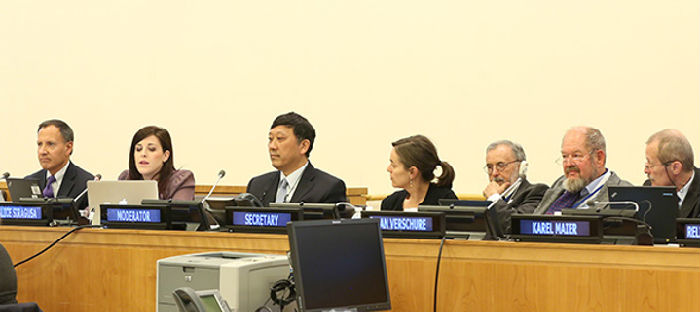 2016.4 UPSC's representative in UN Headquarters. New York
The first open-ended consultation brought together all member states and international organizations including UN-Habitat, UNDP, World Bank, Women, Refugees as well as professionals such as ISOCARP, UPSC and UCLG. On this important meeting, member states are divided into two groups, EU and the U.S. and some developed countries vs. China and 77 developing countries. After 3 days' hard consultation, UN finally come up with zero draft of New Urban Agenda, which was open to the public on 10 May.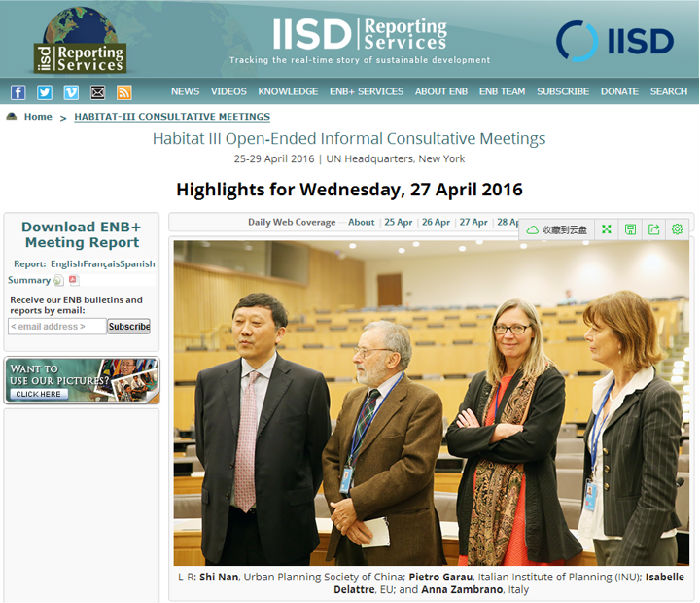 2016.4 UPSC's representative at UN headquarters for the open-ended consultation PrepCom 1
The following intersessional meetings include the second and the third open-ended consultations. Political concerns and national interests were mixed into the technical document.When I participated in the fourth consultation in New York, each member state had to agree on the final draft on the spot. Many delegates had to inform their capital for the decision and modification suggestions, and the meeting lasted for 38 hours non-stop. Finally, we reached the consensus.
2016.9 UPSC's representative at UN headquarters for the open-ended consultation PrepCom 4