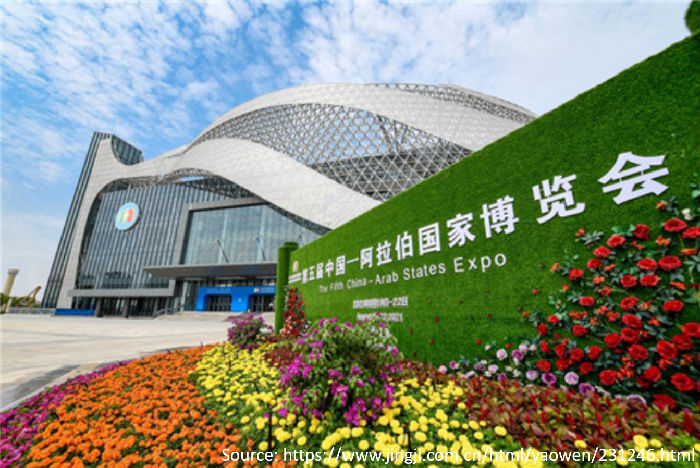 More than 2000 years ago, the long camel bell rang through the ancient Silk Road and connected the world through history. Today, the Belt and Road Initiative has paved a new avenue for deepening the comprehensive cooperation between China and Arab States.
China and Arab States are natural partners for jointly building the Belt and Road. Up to now, China has signed cooperation documents with 19 Arab States and the League of Arab States. In the first half of 2021, the bilateral trade volume between China and Arab States reached US$ 144.27 billion, and China continues to remain the largest trading partner of Arab States. The cooperation between China and Arab States in promoting the Belt and Road Initiative has highlighted the profound connotation of community of shared future.
Building the corridor of science and technology along the Silk Road through technology transfer
In the 5th China-Arab States Expo, fruitful results have been reached in the 4th China-Arab States Technology Transfer and Innovation Cooperation Conference as well as other special meetings. 42 projects covering clean energy, electronic information, cultural tourism, new materials, modern agriculture and other fields with an agreement amount of more than 900 million yuan (RMB, the same below) have been signed. Besides, 10 technologies including the index knowledge service application system of the Belt and Road countries have also been released, which cover information technology, modern agriculture, intelligent manufacturing, ecological and environmental protection, etc. These projects and technologies have enabled the collaboration of science and technology between China and Arab States to run through the Belt and Road Initiative.
"China's scientific and technological innovation has never been closed innovation, and China will never pursue closed innovation in the future." Mr. Wang Zhigang, Minister of Science and Technology of China, pointed out that China is willing to have extensive and in-depth international scientific and technological exchanges and cooperation with countries around the world, including Arab States, and is willing to jointly promote the deepening and implementation of China-Arab cooperation in science and technology, to jointly deal with the global problems and challenges facing human society.
At present, the sub-centers of China-Arab Technology Transfer Center have been established in 8 countries including Oman, and have formed a technology transfer cooperation network linking nearly 5000 Chinese and foreign members. This corridor of science and technology also enables China's achievements such as sand prevention and control and drip irrigation to promote local development.
Realizing agricultural development and modernization through science and technology

Promoted by the Belt and Road Initiative and China-Arab States Expo, Ningxia has carried out all-round cooperation with Arab States as well as countries and regions along the Belt and Road in recent years. The cooperation has covered aspects such as agricultural technology, equipment display, personnel training, agricultural products trade, etc.
The Arab States, especially the Middle East countries, share some similarities with Ningxia in terms of geographic location and climate environment, and their demand for water-saving technology is very strong. The "Project on Establishing a Joint Laboratory for Agricultural Water Conservation in Arid Areas" released in the China-Arab States Expo ranked first in scientific and technological cooperation projects, which is also highly appreciated by many guests. Later the Ningxia University and the Horticultural Research Institute of Egyptian National Agricultural Research Center will establish a joint laboratory for agricultural water saving in arid areas to promote high-quality agricultural development.
The Jordanian ambassador to China, Mr. Hussam A.G.Al Husseini also expressed in his online speech that Jordan is welcome China to set up an Agricultural Technology Research and Transfer Center, and he looks forward to more cooperation between Jordan and China in the agricultural field.
China and Arab States work together to build a new pattern of cooperation
The 5th China-Arab States Expo with the theme of "Deepening economic and trade cooperation, jointly building the Belt and Road", further highlights the important position of economic and trade cooperation, and also shows that China-Arab economic and trade cooperation will embark on a new road.
The 2021 Development Report on Economic and Trade Cooperation between China and Arab States published in the Expo mentions that the transformation of energy pattern in the Arab region will create a huge market for China's industrial cooperation in renewable energy, power grid and electric vehicles with comparative advantages.
At this Expo, many experts and scholars deeply discussed the opportunities facing China-Arab Cooperation under the background of carbon peak and carbon neutralization, and discussed how to work together to deepen China-Arab energy development.
Mr. Awaidha Murshed Al Marar, Chairman of the Department of Energy Abu Dhabi, United Arab Emirates, said that we continue to find ways to achieve economic diversification and climate goals, and China has always been a trusted strategic partner in this regard.
Mr. Sun Ping, the Vice president of the Export-Import Bank of China, expressed support for jointly building the green Belt and Road. "The China-Arab cooperation should take effective measures to save resources, emphasize the environmental protection and fulfill social responsibilities. China-Arab cooperation should strictly follow the guidance and constraints of green financial standards, integrate the concept of green development into the medium and long-term development strategy, embed green credit standards into the whole process of credit business, and constantly enrich and improve green financial products and services."
"The conference is a platform for discussion and exchange of experience, and is a window for setting up new projects, opening new plans and putting forward new initiatives around scientific and technological innovation." Ms. Haifa Abu Ghazaleh, the Assistant Secretary General, Head of Social Affairs Sector at League of Arab States, expressed the hope that the two sides could strengthen technology transfer cooperation in nanotechnology, biotechnology, renewable energy and other fields.
277 signed agreements, 156.67 billion yuan of planned investment and Trade... In the face of increasingly serious global challenges, China-Arab Cooperation has shown strong resilience and vitality without pressing the "pause button". As said by Mr. Wael Yassin, the Director of Middle East One Belt and One Road Research Center, on the road of jointly building a community of shared future for China and Arab States facing the new era, the 5th China-Arab States Expo will become one of the important opportunities for revitalizing China-Arab and the world economy.
Source:<https://mbd.baidu.com/newspage/data/landingsuper?context=%7B%22nid%22%3A%22news_9415014504120669472%22%7D&n_type=-1&p_from=-1>
Translated by Zhao Shengbo